The end of the financial year is fast approaching and it's now or never for taking action to reduce your business and personal income taxes for the current financial year. Here is a list of things to consider. Not everything will be relevant for everyone, so feel free to send me an email or give me a call if you want to discuss anything specific to your situation.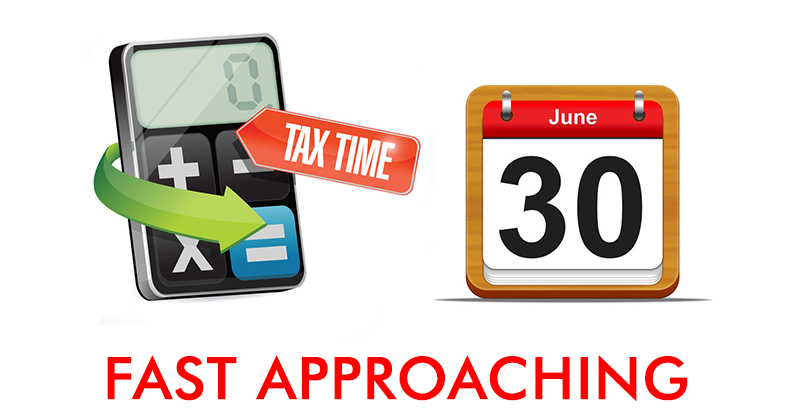 Delay Business Income
Have a think about delaying invoices to customers during the next few days until after 1st July. That will move the taxable income into the following financial year. If you are on a cash basis you just need to delay receiving the money from the customer.
Bring Forward Business Expenses
If your business is on a cash basis for income tax and GST it's a good idea (cash flow permitting) to pay as many genuine expenses as possible before 30th June. Don't EVER spend money on something you don't need, but if you have expenses due in July it may make sense to pay them in June. Here are a few examples:
Superannuation for employees, including for the June quarter (has to be received by their superfund by 30 June to claim a tax deduction).
Superannuation for owners and associates
Wages, bonuses, commissions and allowances
Contractors
Trade creditors
July's rent
Insurance
Motor vehicle expenses
Telephone bills
Electricity bills
Advertising
Printing and stationery
Accounting fees (although be careful with this one as then I'll have to pay tax!)
Immediate Write Off for Assets Purchased Less Than $20,000
As most people would be aware by now, small businesses with a turnover less than $2m are able to claim an immediate deduction for assets costing less than $20,000 from 12 May 2015 to 30 June 2017. I've been receiving a lot of calls about this lately. Here are some key points to remember:
To be eligible it must be purchased by a business turning over less than $2m
Individuals (unless they are running a business) are not eligible and only have a $300 limit
The asset can be brand new or second hand, either is fine
Take GST out of the price to work out if it is under $20,000 (it is GST exclusive)
If you borrow to purchase the asset it is still eligible
The asset has to be installed and ready to use by the deadline (purchasing a car to be delivered in the future won't count until the car is delivered)
To claim a motor vehicle you will need to have a valid logbook and claim only that percentage of the cost as an immediate write off
If your tax rate is 30% and you write off a $10,000 asset you reduce your tax by $3,000, not $10,000, so don't waste money on things you don't need as you are still 70% out of pocket
If your business has a small profit or even a loss, the write off will be of little or no benefit in the current year (losses are not refundable but can be carried forward to the next year)
Building structural improvements are not eligible for the write off
For Individuals
Have a look at the kinds of things you claimed in your tax return last year and consider whether you will claim them again this year. Also look at the following which may be relevant:
If you have a rental property pay for repairs, rates and other expenses before 30th June.
If you have a tax deductible loan look at prepaying some of next year's interest before 30th June. Check with your bank to see if they allow this first.
If you claim motor vehicle expenses using the logbook method (% of actual expenses) then look at paying repairs, rego, insurance etc before 30th June.
Consider paying for work-related uniforms, tools, subscriptions, training etc before 30th June.
If you are due to receive a bonus or commission see if you can have it delayed until after 1st July.
Consider additional salary sacrificed or self-employed superannuation contributions. Check with your financial planner first for eligibility (or ask me for a referral to one).
Other Things to Consider
Look at your overall tax structure. Do you need to consider changing your structure by establishing a family trust, self-managed superannuation fund or something else?
If you have a family trust (or any kind of discretionary trust) you need to prepare and sign a distribution resolution by 30 June to avoid the trust being taxed at 47%
Should you consider tax-effective investments such as negative gearing or margin loans for property, shares or other more exotic investments?
Do you need to consider your insurance coverage for life, trauma and sickness, including reviewing the tax consequences of each?
If the unthinkable happens, is your superannuation and your will setup in a way that minimises taxes on distributing your estate?
I hope this information is useful and remember that we are only an email or a phone call away if you have any questions at all about your specific situation.
Follow me on facebook, linkedin, twitter and google+ for more.